---
---
If you want to be unhappy, think of yourself. If you want to be happy, think of others.

– Dalai Lama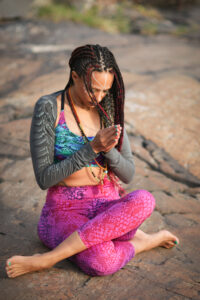 The following words are from a mentor of mine, Michelle C. Johnson. I share them here since they tell the story of how I and countless others navigate healing + wellness spaces:
"I started practicing yoga…was entering into spiritual spaces or wellness spaces and not seeing myself reflected in those spaces. And also not hearing a conversation about suffering that was happening in the world outside of that room. And the connection between the suffering outside of that room and the suffering happening inside. There wasn't a container to hold a conversation about how yoga was connected to the collective and the harm that we experience and the suffering we perpetuate."
"I experienced the absence of that conversation over and over and really yearned for it, longed for it….I thought if people in the yoga spaces aren't gonna have these conversations, I'm gonna start the conversation."
The culture within healing and wellness spaces can shift to be safer and more caring. Are you ready to reduce harm by joining in the conversation and making space for our collective liberation?
Without inner change there can be no outer change. Without collective change, no change matters

Rev. angel Kyodo williams