You may be thinking, "That's all well and good… but how does it help?"
While meditation may not be able to predict how the external world will go, it can help you relate to the thoughts and feelings that accompany living in tumultuous times with more clarity, compassion and ease.
Meditation can be your anchor.
Meditation helps us pay attention to what's going on, both around you and within.
Meditation isn't about emptying the mind or stopping impulsive thoughts from coming.
With practice and a bit of time, meditation can, however, expand the space between thoughts, so that we have a moment to defuse the reactive spark that pops off before we have time to think before speaking or doing.
In other words, meditation can build the response muscles in your brain, helping us respond more skillfully and appropriately to stress and strong emotions.
I've created seven unique tracks that are suitable for beginners and experienced meditators alike. Each track is between 5 – 15 minutes, so they're easy to fit into your day. Whether you're working from home or helping your children attend school via Zoom, these meditation tracks are designed to be your personal sanctuary.
Or, a moment of sanity, at the very least.
---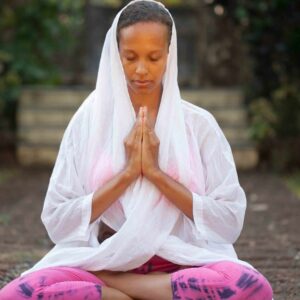 Allow me to be your guide and companion through our brave, new world. Between worries about the coronavirus, to thinking about the health of your loved ones, or the economic…
---